The smartphone users in your company may have more security savvy than you think. In fact, in a recent study, far more users were concerned about mobile privacy than the brand name on their device.
The "US Consumer Data Privacy Study -- Mobile Edition" was conducted by Harris Interactive on behalf of data management company TRUSTe, based on interviews with 700 smartphone users across the US. Looking at the results, it appears that mobile device owners are beginning to understand the importance of protecting their personal information.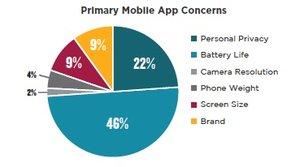 Although much is made of the "platform wars" and the competition in the industry between Android and Apple, only 9 percent of users identified phone brand as a primary consideration. For 22 percent of users, however, privacy was a primary concern when using mobile apps. Other factors, such as camera resolution, phone weight, and screen size, only registered in small percentages.
Awareness of mobile security in general is increasing, according to the results. Almost half of smartphone users said the privacy risks are equal, whether they are on a smartphone or a desktop computer. More than 60 percent expressed a large amount of concern about shopping and banking via mobile devices. Four out of five said they will not download an app they don't trust.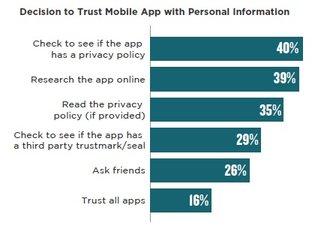 Smartphone users in the US are also making progress with managing their own mobile privacy. A full three-quarters of study participants stated that as users they are ultimately most responsible for managing their privacy, rather than relying on manufacturers, service providers, or the government.
In addition, users are researching apps before they download them. Forty percent check for an app privacy policy, 35 percent read the privacy policy, and almost 30 percent look for a trust mark or seal.
TRUSTe also sponsored a UK version of the study, which produced very similar results available here.
Are you seeing signs that your users are protecting their mobile privacy? Sound off in the comments.
Related posts: